Outdated Panels

If you (or a friend) have one of the following types of panels, please contact our office ASAP to obtain a quote for panel replacement, as each of these panel types are outdated and pose problems such as risk of fire:
​
Federal Pacific (Also known as FPE), Challenger, Zinsco, XO style Square D, Pushmatic, Crouse-Hinds, Sylvania
Common Problems with older homes (20 years or older)

Outdated panels (Such as those listed above)- Should be replaced with new "Circuit breaker" style panels.
Open Junction boxes- Pose problems such as risk of fire or electrocution, therefore we suggest either closing the Junction box with the proper cover, or eliminating it altogether.
Flickering Lights
Not enough outlets- This usually results in the use of several extension cords, which can cause problems like fire or damage to your equipment. CJS suggests installing additional outlets to remedy this problem.
No GCFI's – GFCI's are now required to be installed in all wet locations, such as the bathroom and

kitchen. You may not see problems, until you need to renew your homeowner's insurance policy,

which will usually require you to have GCFI's installed to meet

current code requirements.

Overloaded panels- This is very common in older homes, as more circuits are added to an existing

panel, commonly resulting in an overloaded panel that cannot handle your electrical demands.

Aluminum or Knob & Tube wiring- Beware: Aluminum wiring was used in pre-1970 homes and has been deemed a safety hazard, so if you have aluminum wiring in your home, you may be asking if it is "SAFE". We recommend you to call our office for a free electrical evaluation to examine your home wiring. See below for more information on Knob and Tube wiring

"Backstabbed" or incorrectly wired receptacles and/or switches-At a minimum, loose wires can cause

a receptacle or switch to stop working. In the worst case, they can start a fire. CJS Electric recommends

installing new receptacles and/or switches if you are experiencing loss of power at several devices.

Ungrounded or loose receptacles are a safety hazard and are in violation of the National Electrical

Code.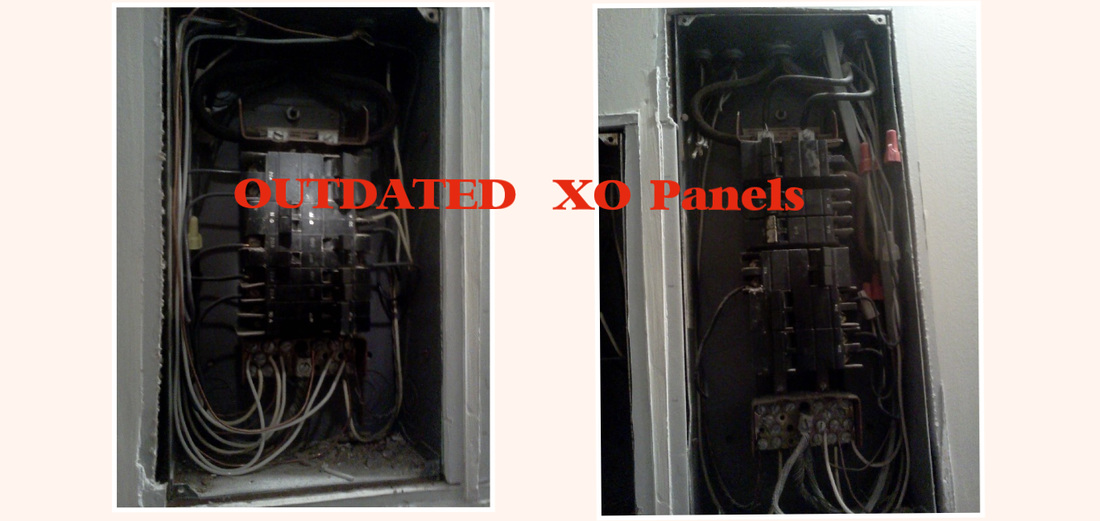 Dangers of Knob & Tube wiring:
Knob-and-tube (K&T) wiring was an early standardized method of electrical wiring in buildings, in common use in North America from about 1880 to the 1940s. The system is considered obsolete and can be a safety hazard.
Problems Associated with Knob and Tube Wiring:
Unsafe modifications are far more common with Knob and Tube wiring than they are with Romex and other modern wiring systems. Part of the reason for this is that Knob and Tube is so old that more opportunity has existed for improper modifications.
The insulation that envelopes the wiring is a fire hazard.
It tends to stretch and sag over time.
It lacks a grounding conductor. Grounding conductors reduce the chance of electrical fire and damage to sensitive equipment.
In older systems, wiring is insulated with varnish and fiber materials that are susceptible to deterioration.
Knob and Tube Wiring and Insurance:
Many insurance companies refuse to insure houses that have knob-and-tube wiring due to the risk of fire. Exceptions are sometimes made for houses where an electrical contractor has deemed the system to be safe.
Advice for those with Knob and Tube wiring:
Have the system evaluated by a qualified electrician. Only an expert can confirm that the system was installed and modified correctly to avoid problems.
Do not run an excessive amount of appliances in the home, as this can cause a fire.
Where the wiring is brittle or cracked, it should be replaced. Proper maintenance is crucial.
Knob and Tube wiring should not be used in kitchens, bathrooms, laundry rooms or outdoors. Wiring must be grounded in order to be used safely in these locations.
Unsafe wiring causes problems, they can cause fires, complicate estate transactions, and make insurers skittish.
The homeowner or an electrician should carefully remove any insulation that is found surrounding Knob and Tube wires.
Prospective home buyers should get an estimate of the cost of replacing Knob and Tube. They can use this amount to negotiate a cheaper price for the house. At CJS Electric, we provide FREE estimates to replace existing knob and tube wiring.
Helpful Videos
---
---
Turn to the Experts at CJS Electric to Keep You Safe

CJS Electrical has special knowledge of the safety precautions that Tampa residents must face such as lightning strikes in our unique weather, internal load switching and the power provider, all of which could be responsible for an electrical surge. A surge can happen when the voltage level spikes significantly. There are electrical devices that can be installed in power distribution panels, process control systems, communications systems or other heavy-duty systems.