Is your home and equipment protected from lightning & surges?? Probably not!!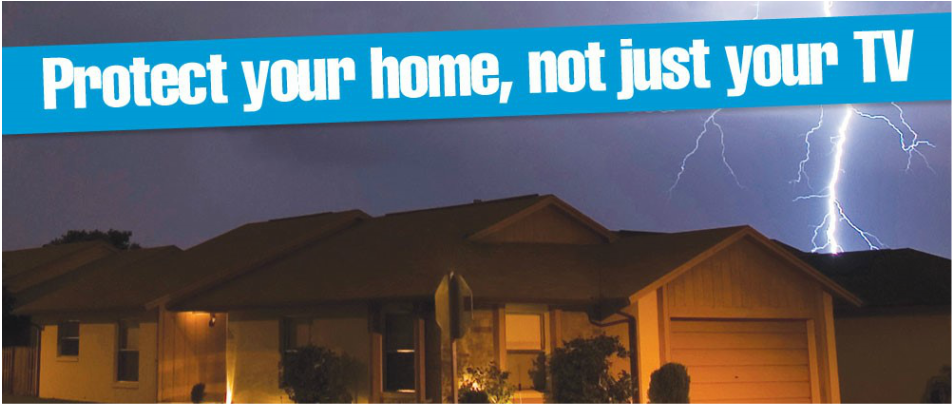 Every year home owners lose tens of thousands of dollars in home electronics and appliances due to electrical surges.These short duration electrical disturbance are not the result of storms alone but take place every day in varying degrees of severity through routine power supply to your home - this issue increases in frequency and severity as infrastructure related to power supplies in our cities become increasingly dated - prematurely reducing the life of your home electronics.

With today's electronics becoming smaller, more sensitive, and more expensive no one can escape the need for quality surge protection. Every day hundreds of voltage surges (some potentially larger than 5000 volts) can enter your home. These surges are also referred to as "spikes" or "transients". Because they last for a very short time (generally less than 1/1,000 of a second) these surges do not always destroy your equipment. Sometimes they may only cause flicker on your computer screen. Other times, you may be left with a smoking wreck where your new HDTV was. Beyond destruction, a costly result of these small surges is the wear and tear they put on all electronics. Your electronic equipment and appliances could last up to 30% longer, and "glitch" much less, with the proper protection. In fact, most major appliances, including ovens, stove-tops, refrigerators, washers and dryers, and, of course, A/C units now have micro-processor controls. When you look at the cost of replacing all the electronics in a home, not to mention the inconvenience if the systems are down, proper surge protection is the only intelligent option.

The most dramatic damages occur during the stormy season and are the result of lightning strikes that can affect your property from a distance of over one mile from the actual strike location. Lightning, however, does not cause the most damage to your appliances and electronic equipment. Most damage that is done in the home is from the daily surge that results from the Power Company switching grids. (The utility grid system is outdated and overloaded with the increased demand and no new construction to provide updated power delivery systems.) The sudden demand on the utility power supply from industrial customers that use bursts of power, or from your own home as appliances turn on and off, will cause surge conditions that will cause damage. If you have ever noticed your lights dim as your air conditioner turned on, you are experiencing a sag in the power flow, and as they grow brighter than normal, you saw the surge that followed the sag. If you imagine this event occurring many times each day, you can get an idea of the damage that results with long term exposure.

Benefits of Surge Protection:
*You can rest easy the next time a lightning storm or power surge happens knowing that all your valuable electronics will return to normal once the power comes back on.
*Protection is AFFORDABLE- Especially when compared to replacement or repair costs
​*$10,000 -$50,000 Connected Equipment Coverage (Varies by installed device)
*Many insurance companies give a discount for homes that have surge protectors


Don't lose your valuable equipment to surges… Call CJS Electric for a free in-home estimate! 813-887-1090
​Protect your Florida home

CJS Electric has many options available to protect your valuable equipment from being damaged due to Lightning and Power Surges.

​Protect your Florida home with dependable, cost effective lightning and surge protection. Florida receives more lightning strikes per square mile than any other state, making the electronics and electrical equipment of Florida residents particularly vulnerable.


Lightning and Surge Protection:

CJS has many lightning protection options: Just let us know what type of equipment you want to

protect… Some of these products are designed for the main service entry point into the house. We have

products to protect power, phone, and cable, all at the line of demarcation.
Special package pricing available on multiple surge protection products. Call or fill out the short form below for more information.